Secrets of Nene Jag
Posted by:
Julia
Tags:
Posted date:
07-11-2018
Secrets of Nene Jag
One of the things I love the most about running our garage is that no two days are ever the same. Even though we only do the one make of car, each day brings new challenges, different customers and a selection of models.
With Clive busy working away on whatever poorly cars are already in the workshop, my job in the office is to keep him supplied with the correct parts, right information and a steady supply of 'next jobs' for when he finishes what he's doing.
With 2 incoming phone lines and just me in reception to answer the calls, deal with the customers in reception, produce the job cards for the workshop, provide estimates and order any parts required, it's not a job for someone wanting a quiet life!
Thanks to a minority of poor garages that give the motor trade a bad name, a few members of the public are deeply suspicious of the entire business and understandably adopt a 'trust nobody' policy. It is also my job then to put their minds at rest and assure a potential new customer over the telephone that we're not about to 'rip them off'. Sometimes, this isn't always easy, particularly if the customer has already had a bad experience at another garage.
To dispel a few myths about the garage industry, I'll share a few 'secrets' with you.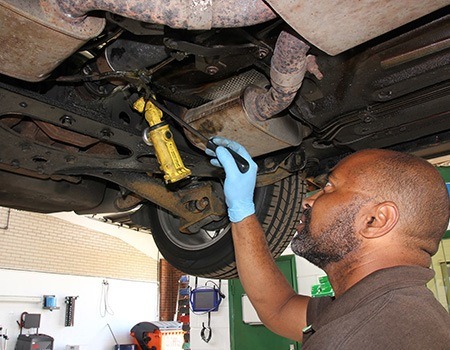 Clive is a very experienced Jaguar technician and is very capable of diagnosing what's wrong with your car. We'll do the required diagnostic tests to determine what needs fixing before we do anything.
When we diagnose the fault with your car, we don't just 'pluck a price out of the air' as to what it will cost to trace the fault! We consider the equipment we will need to use, the procedure we will need to follow, the time that it may take and most importantly Clive's knowledge and experience.

When you drop your car off with us for repair or service, we don't then use it for going to the shops. We take great care of every car. We always fit a seat cover and floor mat before driving it to protect your carpets and upholstery. We keep our workshop clean and tidy and our technicians work cleanly.

When we diagnose and repair certain faults with a car, we like to fix the cause of it as well.

We carry out our repairs in appropriate way. We don't do 'quick fixes' or 'bodges'If we say we've fitted a part to your car and have charged you for it, it will be on your car. You can have the old part we removed for inspection should you wish. All our invoices have part numbers and all the parts have a guarantee.

We will always explain the work carried out and are always happy to answer whatever questions you have.

We don't just keep changing parts until we fix the fault. Modern cars are incredibly complex and even with the best diagnostic equipment and technician available, some faults are just difficult to find. We use a methodical approach to diagnostics and concentrate on a first-time fix. We'll try and keep you updated as best as possible and won't let the costs spiral upwards without your consent.

We always contact you to discuss any further work that may be required. No additional work will be carried out without your consent.
We don't just recommend extra work to get you to spend more money. It is part of our job to check your Jaguar over and spot any problems. This can save you money in the long term if potential problems can be caught early enough.

We are not being 'awkward' or evasive by not giving you a price over the phone for some jobs. It is impossible to accurately diagnose a car over the phone and then give a price for repair.

Google isn't always right!